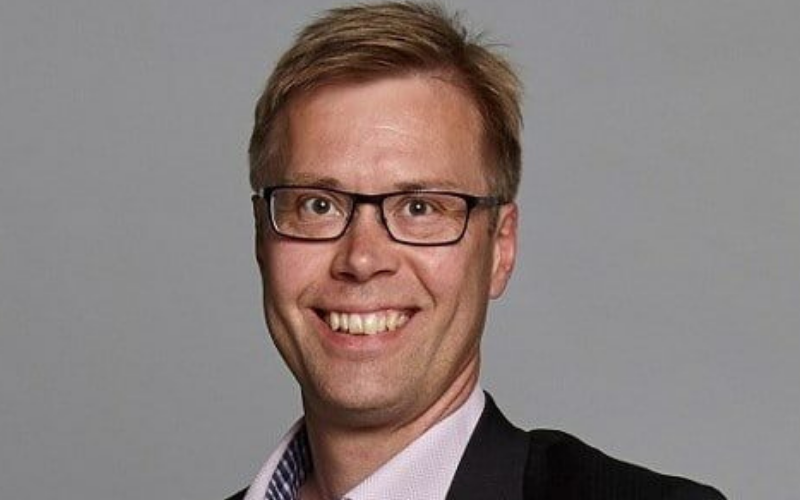 Roope Takala, CEO of Aurora Propulsion Technologies, whose company is set to send its first satellite into orbit this year
Humanity has shown a natural tendency to expand further and reach deeper into the realms of possibilities. Our zest for exploration of the physical world and beyond has continued to accelerate throughout time, pushing us past the boundaries of our atmosphere and into space. 
For centuries, as we continued our accelerated growth, humans believed the earth's natural resources to be inexhaustible and our fate to be predestined. Today we understand that the threat of ecological collapse is self-inflicted, and only we have the power to change the course of history. 
To tackle this challenge at a scale we need bold innovators and a diverse range of perspectives – from engineers to artists – thinking of solutions. Within the startup community, we have a term for the changemakers aiming for environmental or social impact – impact entrepreneurs. 
Leveraging space technology for impact
Exponential and converging technologies are driving down costs and making space more accessible; it is no longer a playground reserved solely for governments. Now is the time to leverage space technology for impact.
The space sector's value to life on Earth is difficult to overstate. Space tech, such as satellite data, is already in use in many industries from farming to environmental protection. In fact, over half of the essential climate data can only be measured from space [1]. 
Space technology has contributed to the developments of many impact spinoffs, including advances in green energy, tracking of endangered species, cleaning oil spills and industrial zones, identifying ocean debris and more [2].
In addition to industry and environmental impacts, space technology can help connect the remaining 49% of the world's unconnected population, enabling a sustainable and inclusive digital society. The current lack of ubiquitous infrastructure contributes directly to many challenges behind the United Nations SDGs [1].
It's important to understand that space not only allows us to track the earth's environment but that space is part of the environment. Thus, like the oceans and rainforests, space is commons. As we have seen here on earth, some take care of the commons and some throw their trash in it – in space, this pollution is called space debris. 
Space debris presents a hazard for active satellites and could even make orbiting the earth impossible if the risk of collision becomes too high. Since we rely on satellites for so much of our climate data, the hindrance of our ability to use them would pose serious threats to life on earth. 
We not only need space, space needs us. To protect the environment – whether inside or outside of the biosphere – we will need innovative solutions. 
Worth a thought:
What are the new innovative ways of making use of satellite data to shed light, monitor, and shape human impact on our planet?

What can we learn from the closed-loop systems created for space travel to accelerate our transition to the circular economy?

How can space tech be used to sustainably feed the population of earth?

What new ideas open up when innovating from a Whole Earth perspective?

How can space tech be used to solve our development and humanitarian issues?

How can space and sci-fi be used to design solutions for other domains?
Pushing the boundaries of innovation 
Space is a unique greenfield for creative people, where the void naturally provides an opportunity with lack of constraints imposed by prior thinking. Space has always pushed the boundaries of imagination and can now be used as a method for innovation to create truly out-of-this-world ideas. 
There is a need for diverse perspectives to work with space and space tech. The energy and creativity of impact entrepreneurs, designers, developers, humanists and artists in the space sector will lead to completely unique and exciting directions. 
Space travel is not as far away as we may think – NASA is planning to send people to the moon again in 2024. How can we ensure that we not only survive but thrive in space?  
Sebastian Aristotelis, co-founder of the design practice SAGA, is approaching the theme from his perspective as an architect. The team at SAGA are working to make space livable for future space travellers by approaching the design of habitats from a human perspective. According to the team, "mental well-being and social sustainability is part of the life support equation."
Since the niche of space didn't exist until recently, it presents a unique opportunity for creative people.  "There's not a lot of legacy and tradition that I need to take into account," remarks Aristotelis about working as a Space Architect, which allows ample room for imagination.
Space applications, like the ones SAGA are developing, can be leveraged to a better life on earth. "For every solution we make, we try to find a problem on earth to solve with it as well. If we can find earth applications as well it gives us a larger market to test and develop the technology on. The most recent example is the Circadian Light Panels from our LUNARK habitat. They worked so well that we are developing a version for Earth applications as well," shares Aristotelis.
Sebastian Aristotelis and Karl-Johan Sørensen deployed the LUNARK moon habitat (pictured below) 1000km north of the polar circle and lived in it for 60 days, completely isolated. During the expedition, the habitat sustained a comfortable living environment while enduring Hurricane scale winds, snowstorms, and temperatures down to -30°C.
How will we fill the void which space presents? Things which evoke our senses – like art and nature – will be central to answering this question. 
Space a blue ocean for startups
Space capabilities enable and support business and governments – nearly every industry, including telecom, internet and finance, leverages satellites. The cost of manufacturing satellites has dropped significantly, while their productivity and capability, along with those of other space systems, have increased. 
This allows for greater access to the space industry. More than ever before, there are opportunities to create applications using space tech; Aurora Propulsion Technologies and ICEYE are two Finnish startups that have joined the race.
"It took about 6 years to build satellites in the past, we built ours in about 6 months," shares Roope Takala, CEO of Aurora Propulsion Technologies, whose company is set to send its first satellite into orbit this year (video about the launch).
The Aurora team works out of a bunker in Otaniemi close to the ESA Business Incubation Center, where skilled engineers and micromechanics are building the first-in-class systems of tomorrow (and today).
Takala, who has a background from Nokia, likens the space industry to that of mobile phones, "the devices get smaller and smaller and the technology gets better." This drives costs down and allows for further innovation around the devices.  
Space is a data business that presents 'downstream' and 'upstream' applications; upstream refers to the hardware and software that is used to collect the data, while downstream refers to the unlimited applications of that data. 
Naturally, space will attract explorers and those who want to push the bounds of human capabilities. "On earth, there are physical limits but in space, we can always go further. It's exciting as an entrepreneur because this means infinite opportunities," expresses Takala.
Indeed, space is a huge growth industry estimated to reach over $1 trillion by 2040 [3]. The past decade has seen a 15x growth in the number of space start-ups driving innovative products and services. Unsurprisingly, private investments in space start-ups increased 10x between 2000-2005 and 2012-2017 and the EU financial framework has allocated 17 billion euros for space tech between 2021-2027. 
Calling future changemakers
Space for Humanity bootcamp is designed to equip future impact entrepreneurs and creatives with ideas, tech and community. 
During the week, 60 changemakers from diverse backgrounds will learn from pioneering impact and space entrepreneurs and experts. They will build transformative ideas of how to leverage space and space technology to positively impact the future of people and the planet. 
No previous space or tech experience is required to participate – we are looking for curious and impact-driven people – you might have a background in tech, business, social sciences, humanities, design, art and many more. 
Space for Humanity is hosted by ESA BIC Finland in partnership with Startup Foundation, Founders of Tomorrow and Aalto Design Factory.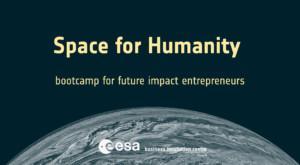 Sources
Written by Verneri Välimaa