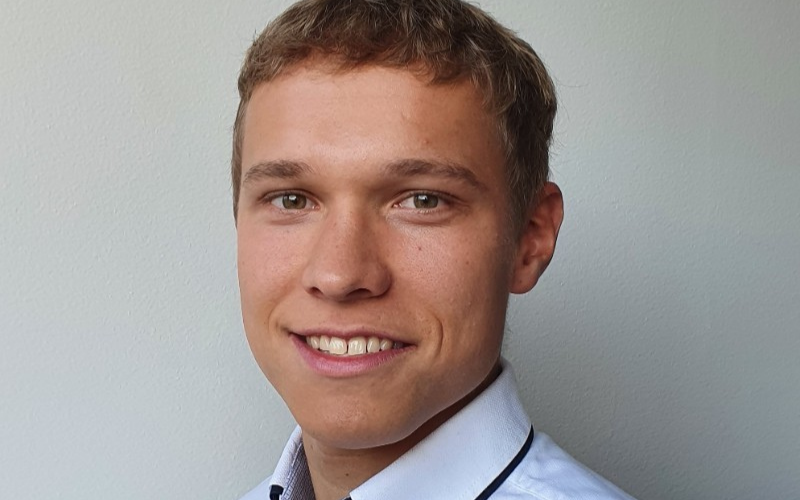 We are excited to introduce Junction hackathon's new CEO Akseli Aho to you. In our Six questions -series we ask our guests six burning questions on them and what they do in the ecosystem. Here's what Akseli had to say. 
1. What is your background and how did you end up at Junction?
I started studying at Aalto in 2018 in the computer science track. The first time I heard about Junction was during my orientation week. Junction had some cool events during the week and I happened to pop by for one of those. There I was introduced to the idea of hackathons. I got excited and joined as a volunteer in the sales team at Junction. In my third year at Aalto I participated in Junction 2020's Connected event. That was my first time as a participant and seeing the other side of Junction. It convinced me that this organization and the things they do are for me. When I heard that Junction was looking for a new CEO I took the challenge, applied for the position, and now I'm here. 
2. What is the importance of Junction for the next generation of doers, hackers and entrepreneurs?

I think Junction is a place where people can come and grow, they can try their limits, and also fail. We want people to feel what it's like to actually create something from scratch. During university studies, in many courses, there might be some theoretical exercises or cases, but they do not offer the same kind of practical angle that for example Junction does. For many students, hackathons like Junction give experiences and understanding of what real-life problems may lie in different companies.
Junction is not just about organizing hackathons and tech events but like with many of the other startup ecosystem projects the idea is to create a community and build the entrepreneurial mindset of the people involved.
3. How has the past year being in lockdown affected Junction and its community?
Since the beginning of the pandemic, we haven't been able to organize as many events as before. Therefore the community has suffered – one of the best parts of our events is meeting other people, who are as passionate about tech as you are. We have organized our hackathons online and tried to engage the community as much as possible, but it's been a challenge. However, there's been a silver lining in all of this. We have been able to come up with new concepts and we have learned how to have hybrid and online hackathons. That has been a valuable lesson and that we will carry with us for future events. There will always be people who want to travel to Finland to see the actual live event, but everyone won't have that opportunity for many reasons. Online allows us to include those people as well.
4. What do you see in the future for Junction in the coming years? How are you going to hack the future?
Now, let's first hope that the pandemic starts to relieve. One of the next steps I want is for us to increase the number of events and engagement with our community: it's what we want and it's definitely what the people out there want. Meeting people live and getting to learn with others. For the past one and a half years, it has been a bit calmer with events and we didn't have the opportunity to offer that much to the community. That will change now.

In addition to having more events, I'm looking forward to making the main event even more exciting than it is now. We want to keep bringing the best hackathon experience now and in the future for people. We have also had discussions and visions of bringing back some of the older, pre-covid, events of Junction with slightly changed concepts. We want to have hackathons and other events throughout the year. If we would just have one event it won't help us accomplish our mission and vision.
6. How has the Finnish hackathon scene developed over the years? 
In 2015, when Junction was first founded, the hackathon scene wasn't very established and known for all. Now, the situation is different. On top of having more organizers and events, hackathons have become more inclusive. They are not just for tech bros but for everyone, no matter what your expertise, background or identity is. This year it seems that we will be able to involve more people also from the schools of business and arts. We have made efforts to brand Junction as an event for all creators and not just for developers. I think that previously Junction has been associated a little more with just developers. Now we are calling all creators to join our events, which will hopefully help us reach a more diverse range of participants than we have before been able to. 
What I feel makes Junction different from other organizers is that under the events and partnerships, we're a true community. We have a team of volunteers and people, who are eager to help and learn here and there, where they can. We also try to enhance the entrepreneurial spirit in our events: hacking is nothing more than trying to fix or solve a problem that you or someone else faces. 
6. Junction 2021 is coming up – what's new? What should we expect from this year's annual event?
This year we are having the coolest Junction hybrid event so far. It gathers together around 2500 people globally to hack on the most challenging and fascinating problems. We are going to have around 500 people live at Otaniemi and 2000 people joining online. We are using innovative and engaging online platforms that will make the online event feel like it's live. We have focused as much as possible on the online hackathon experience. There will be things that surprise the participants and I think this will hopefully change the way people look at online events. Apart from the online part which will be really engaging and really well designed, we will also have the live event fulfilling that entity. According to Junction standards, the live event will deliver an amazing hackathon experience, just like in previous years. It's going to be great regardless if you join live or online.
Applications for Junction are now open – click here to read more!