Coaches
Anton Grachev
Industry Expert
Anton has a degree in banking, economics and marketing. He has embarked upon a career in the Elemte investment company and within two years became the Head of OTC Transactions department. After that he had been appointed as the Deputy Director at Treasury Department in Tatfondbank (one of the largest banks of the region). In 2008 he started a new challenge as a car retail business and became the COO of Autolife-group. Since 2012 Anton Grachev has been involved in IT after being invited as COO in 'The Centre of Information Technologies of the Republic of Tatarstan' where he managed the project of the future IT-capital of Russia Innopolis.
Since 2013 Anton Grachev has been the CEO of the High technology IT park. In just a few years IT Park has become one of the most effective technology parks in Russia according to ICT Ministry of the Russian Federation.
Paolo Borella
Industry Expert
Paolo is CEO & Co-founder of Vertical Health accelerator, where is heading the acceleration program. Paolo has been involved in business acceleration and startups for several years; as Director of AppCampus the Aalto University-Microsoft-Nokia program with a 21M€ fund he helped accelerate the Windows Phone ecosystem across the world. His previous work included running a 7 million people, 10M USD/year online community as a Vice President at Fox Mobile Distribution in Germany.
Earlier Paolo spent 12 years at Nokia serving as Director for Go-ToMarket of Services and Software, spending five years in Singapore and 2 to 6 months in 10 other countries. Earlier in his career he developed his Change Management and Process Improvement skills with General Electrics, working in the ED&C Business in Italy and with a six-month rotation in the Corporate Audit Staff based in Albany, USA.
Besides his passion for helping create new business and develop existing ones, Paolo is a triathlete and has a sweet tooth for sports related business and watches.
Uliana Anufrieva
Industry Expert
Uliana is the Head of Tatarstan export support center. In past, she was the Head of investment and innovation activity of the Committee for Economic Development of Kazan, co-producer of figure skating and short track speed skating at Sochi Winter Olympic, head of External Relations Department at Pulsar Venture.
Mike Bradshaw
Industry Expert
Mike Bradshaw (@ ymb) is an evangelist for Solu (http://solu.co). Mike can often be found coaching early stage start-ups and entrepreneurs in the fundamentals of pitching. The one true way to annoy Mike, is to read "bullet point" slides during a pitch (as bullet point slides are a crime against Humanity). In his free time Mike is; a Coach at StartupSauna, a co-driver with the Travelling Salesman project, curator of the Helsinki StartupDigest, enthusiastic visitor of sauna, beer drinker and the holder of a British passport.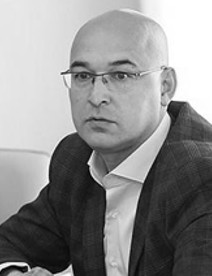 Gumar Kadyrov
Industry Expert
Gumar is an expert in small innovative companie's operations. Co-organizer of the KAZANSUMMIT, summit of Islamic business and finance and the director of LLC Linova-Trade. The Russia's first halal logistic complex - the Kazan Halal Hub was organized together with the Global Halal Ventures Fund (Malaysia, Bahrain) and with assistance of the Group of Islamic Development Bank. He is also the cofounder, finance director (CFO) of "Transferred Energy Group" (UAE). The company supports all development stages and implementation of projects in the territory of the Emirates, including legal and allowing documents, preparation and legal attending of contracts. The director of the branch of the World congress of Tatars in the United Arab Emirates.
Yaroslav Shvetsov
Industry Expert
Yaroslav is a business analyst and a consultant for business process optimization and brand strategy. He is helping with attracting investments in technological projects. Partner, leading expert of the consulting project company Digital Mission, regional representative of KamaFlow investment company. He was also head of one of the best regional design bureaus "Knock Knock", the largest federal Business incubator in the IT park (Kazan) and subdividing of IFC Bankorp.
Matti Kari
Entrepreneur
I'm a serial (and parallel) entrepreneur by heart. In 2001, ended up co-founding the first really popular social networking, service in Finland, IRC-Galleria; some 80% of 13-25 year old Finns spent on average 45 minutes daily on the site - and that was before mobile Internet! I've later co-founded a few companies and I also help some more as an advisor. My other passion is music and especially vintage music electronics, and as sort-of-hobby-business I run a recording studio and repair shop for vintage keyboards, tube amplifiers, open-reel tape recorders and such.